Wang et al. (2018) is obviously a game changer in many aspects. I have already written about the upcoming Yamna Hungary samples, about the new Steppe_Eneolithic and Caucasus Eneolithic keystones, and about the upcoming Greece Neolithic samples with steppe ancestry.
An interesting aspect of the paper, hidden among so many relevant details, is a clearer picture of how the so-called Yamnaya or steppe ancestry evolved from Samara hunter-gatherers to Yamna nomadic pastoralists, and how this ancestry appeared among Proto-Corded Ware populations.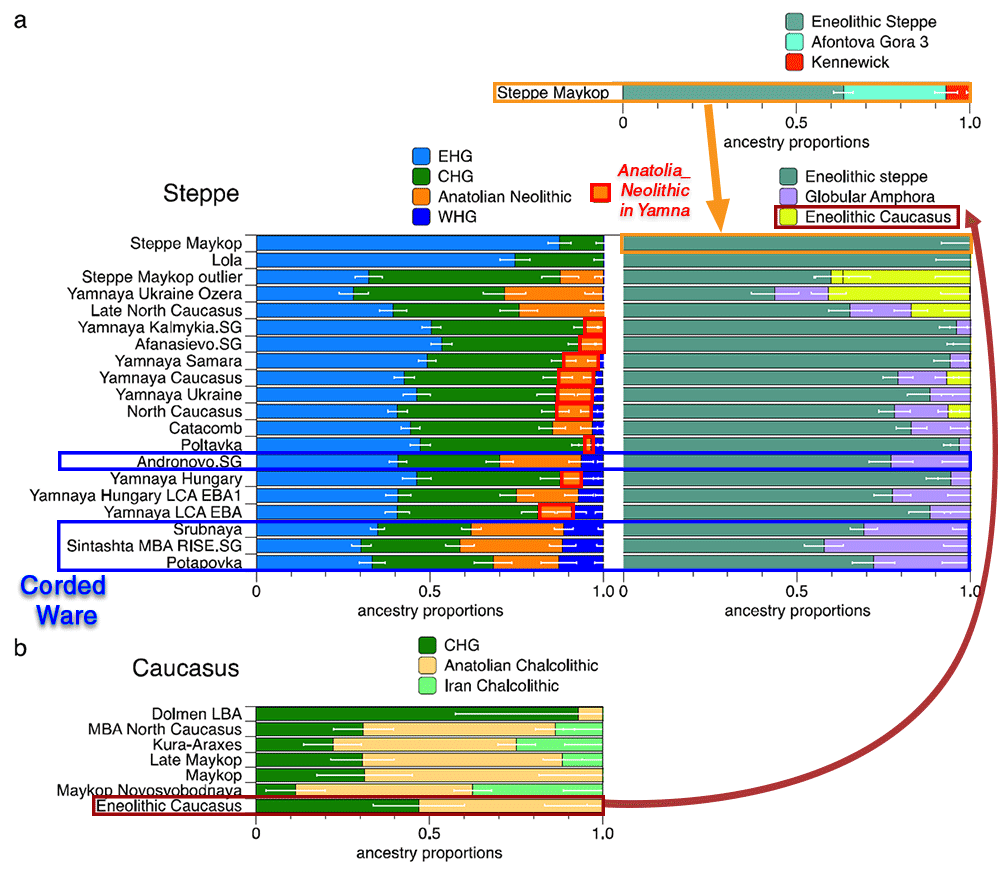 Please note: arrows of "ancestry movement" in the following PCAs do not necessarily represent physical population movements, or even ethnolinguistic change. To avoid misinterpretations, I have depicted arrows with Y-DNA haplogroup migrations to represent the most likely true ethnolinguistic movements. Admixture graphics shown are from Wang et al. (2018), and also (the K12) from Mathieson et al. (2018).
1. Samara to Early Khvalynsk
The so-called steppe ancestry was born during the Khvalynsk expansion through the steppes, probably through exogamy of expanding elite clans (eventually all R1b-M269 lineages) originally of Samara_HG ancestry. The nearest group to the ANE-like ghost population with which Samara hunter-gatherers admixed is represented by the Steppe_Eneolithic / Steppe_Maykop cluster (from the Northern Caucasus Piedmont).
Steppe_Eneolithic samples, of R1b1 lineages, are probably expanded Khvalynsk peoples, showing thus a proximate ancestry of an Early Eneolithic ghost population of the Northern Caucasus. Steppe_Maykop samples represent a later replacement of this Steppe_Eneolithic population – and/or a similar population with further contribution of ANE-like ancestry – in the area some 1,000 years later.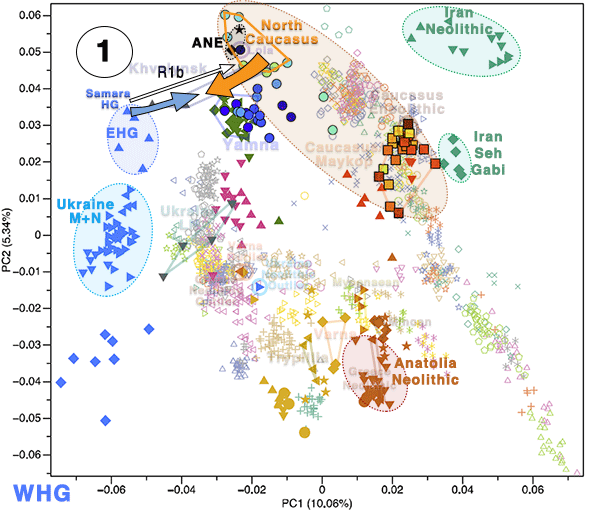 This is what Steppe_Maykop looks like, different from Steppe_Eneolithic:

NOTE. This admixture shows how different Steppe_Maykop is from Steppe_Eneolithic, but in the different supervised ADMIXTURE graphics below Maykop_Eneolithic is roughly equivalent to Eneolithic_Steppe (see orange arrow in ADMIXTURE graphic above). This is useful for a simplified analysis, but actual differences between Khvalynsk, Sredni Stog, Afanasevo, Yamna and Corded Ware are probably underestimated in the analyses below, and will become clearer in the future when more ancestral hunter-gatherer populations are added to the analysis.
2. Early Khvalynsk expansion
We have direct data of Khvalynsk-Novodanilovka-like populations thanks to Khvalynsk and Steppe_Eneolithic samples (although I've used the latter above to represent the ghost Caucasus population with which Samara_HG admixed).
We also have indirect data. First, there is the PCA with outliers: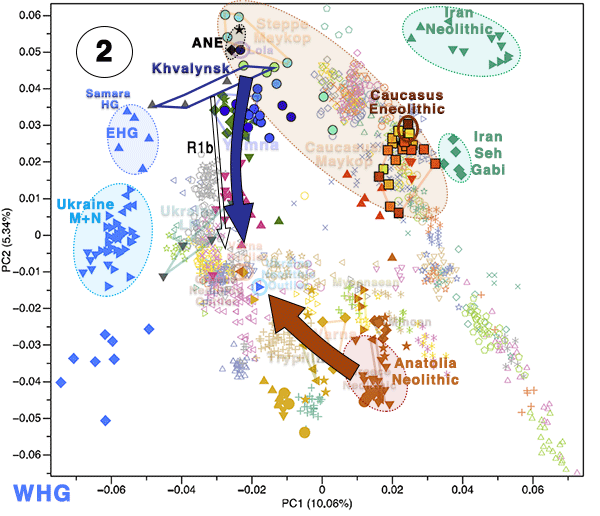 Second, we have data from north Pontic Ukraine_Eneolithic samples (see next section).
Third, there is the continuity of late Repin / Afanasevo with Steppe_Eneolithic (see below).
3. Proto-Corded Ware expansion
It is unclear if R1a-M459 subclades were continuously in the steppe and resurged after the Khvalynsk expansion, or (the most likely option) they came from the forested region of the Upper Dnieper area, possibly from previous expansions there with hunter-gatherer pottery.
Supporting the latter is the millennia-long continuity of R1b-V88 and I2a2 subclades in the north Pontic Mesolithic, Neolithic, and Early Eneolithic Sredni Stog culture, until ca. 4500 BC (and even later, during the second half).
Only at the end of the Early Eneolithic with the disappearance of Novodanilovka (and beginning of the steppe 'hiatus' of Rassamakin) is R1a to be found in Ukraine again (after disappearing from the record some 2,000 years earlier), related to complex population movements in the north Pontic area.
NOTE. In the PCA, a tentative position of Novodanilovka closer to Anatolia_Neolithic / Dzudzuana ancestry is selected, based on the apparent cline formed by Ukraine_Eneolithic samples, and on the position and ancestry of Sredni Stog, Yamna, and Corded Ware later. A good alternative would be to place Novodanilovka still closer to the Balkan outliers (i.e. Suvorovo), and a source closer to EHG as the ancestry driven by the migration of R1a-M417.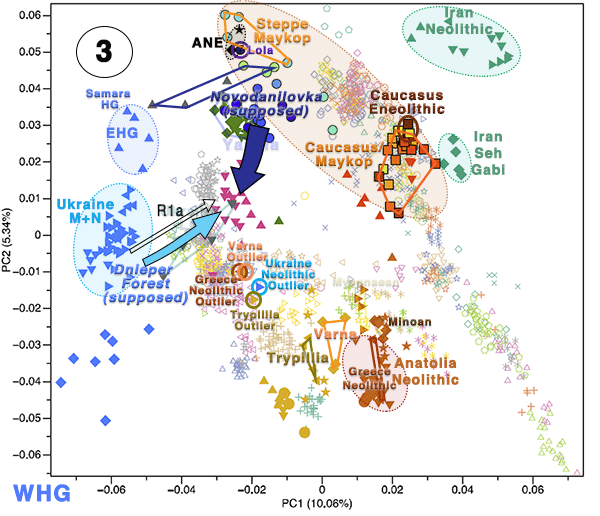 The first sample with steppe ancestry appears only after 4250 BC in the forest-steppe, centuries after the samples with steppe ancestry from the Northern Caucasus and the Balkans, which points to exogamy of expanding R1a-M417 lineages with the remnants of the Novodanilovka population.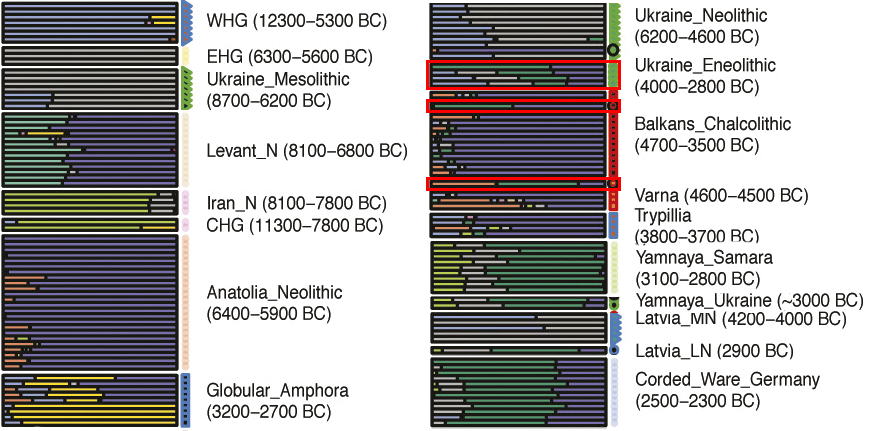 4. Repin / Early Yamna expansion
We don't have direct data on early Repin settlers. But we do have a very close representative: Afanasevo, a population we know comes directly from the Repin/late Khvalynsk expansion ca. 3500/3300 BC (just before the emergence of Early Yamna), and which shows fully Steppe_Eneolithic-like ancestry.

Compared to this eastern Repin expansion that gave Afanasevo, the late Repin expansion to the west ca. 3300 BC that gave rise to the Yamna culture was one of colonization, evidenced by the admixture with north Pontic (Sredni Stog-like) populations, no doubt through exogamy: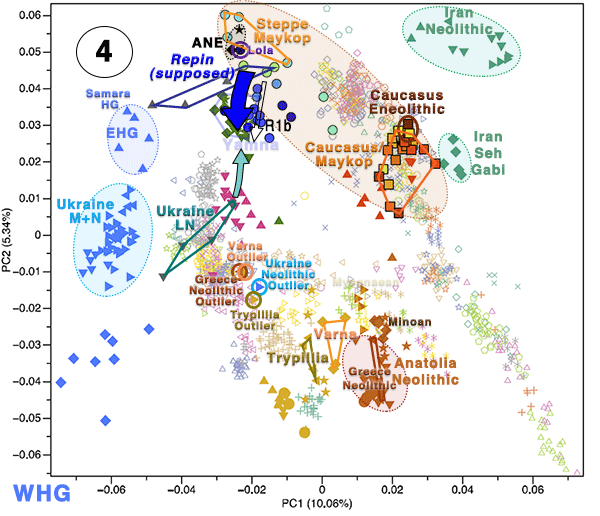 This admixture is also found (in lesser proportion) in east Yamna groups, which supports the high mobility and exogamy practices among western and eastern Yamna clans, not only with locals:

5. Corded Ware
Corded Ware represents a quite homogeneous expansion of a late Sredni Stog population, compatible with the traditional location of Proto-Corded Ware peoples in the steppe-forest/forest zone of the Dnieper-Dniester region.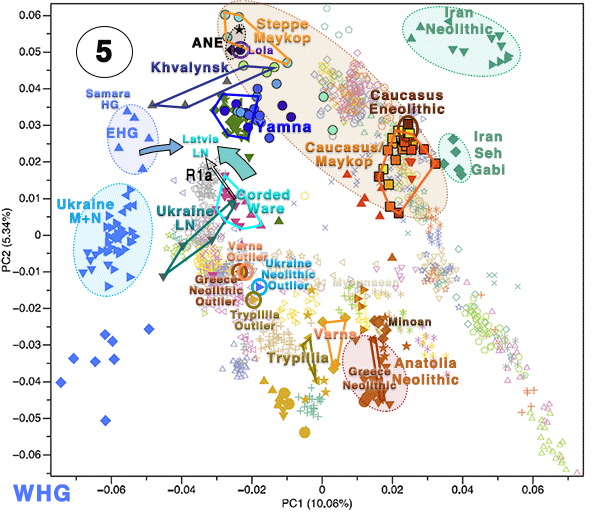 We don't have a comparison with Ukraine_Eneolithic or Corded Ware samples in Wang et al. (2018), but we do have proximate sources for Abashevo, when compared to the Poltavka population (with which it admixed in the Volga-Ural steppes): Sintashta, Potapovka, Srubna (with further Abashevo contribution), and Andronovo:

The two CWC outliers from the Baltic show what I thought was an admixture with Yamna. However, given the previous mixture of Eneolithic_Steppe in north Pontic steppe-forest populations, this elevated "steppe ancestry" found in Baltic_LN (similar to west Yamna) seems rather an admixture of Baltic sub-Neolithic peoples with a north Pontic Eneolithic_Steppe-like population. Late Repin settlers also admixed with a similar population during its colonization of the north Pontic area, hence the Baltic_LN – west Yamna similarities.
NOTE. A direct admixture with west Yamna populations through exogamy by the ancestors of this Baltic population cannot be ruled out yet (without direct access to more samples), though, because of the contacts of Corded Ware with west Yamna settlers in the forest-steppe regions.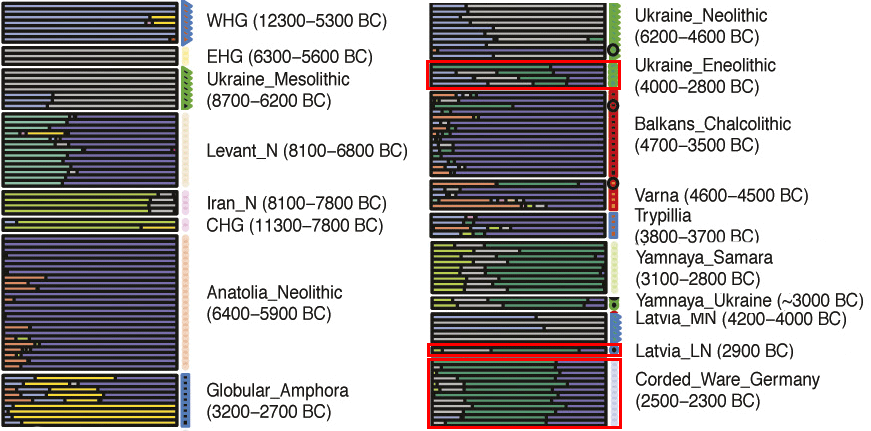 A similar case is found in the Yamna outlier from Mednikarovo south of the Danube. It would be absurd to think that Yamna from the Balkans comes from Corded Ware (or vice versa), just because the former is closer in the PCA to the latter than other Yamna samples. The same error is also found e.g. in the Corded Ware → Bell Beaker theory, because of their proximity in the PCA and their shared "steppe ancestry". All those theories have been proven already wrong.
NOTE. A similar fallacy is found in potential Sintashta→Mycenaean connections, where we should distinguish statistically that result from an East/West Yamna + Balkans_BA admixture. In fact, genetic links of Mycenaeans with west Yamna settlers prove this (there are some related analyses in Anthrogenica, but the site is down at this moment). To try to relate these two populations (separated more than 1,000 years before Sintashta) is like comparing ancient populations to modern ones, without the intermediate samples to trace the real anthropological trail of what is found…Pure numbers and wishful thinking.
Conclusion
Yamna and Corded Ware show a similar "steppe ancestry" due to convergence. I have said so many times (see e.g. here). This was clear long ago, just by looking at the Y-chromosome bottlenecks that differentiate them – and Tomenable noticed this difference in ADMIXTURE from the supplementary materials in Mathieson et al. (2017), well before Wang et al. (2018).
This different stock stems from (1) completely different ancestral populations + (2) different, long-lasting Y-chromosome bottlenecks. Their similarities come from the two neighbouring cultures admixing with similar populations.
If all this does not mean anything, and each lab was going to support some pre-selected archaeological theories from the 1960s or the 1980s, coupled with outdated linguistic models no matter what – Anthony's model + Ringe's glottochronological tree of the early 2000s in the Reich Lab; and worse, Kristiansen's CWC-IE + Germano-Slavonic models of the 1940s in the Copenhagen group – , I have to repeat my question again:
What's (so much published) ancient DNA useful for, exactly?
See also
Related